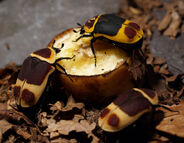 About me
[
]
I am Dser, and no, because I do write many articles on this wiki, I am no major entomologist, I just like to study insects and stuff. It is just a hobby. I not only made contributions to this wiki but I have written articles on Wookieepedia, Wikipedia and many others. I am highly trained with wikis, meaning I know many templates and customs from other wikis. On Wikipedia, I work under the username, Aamsse.
My contributions
[
]
My favorite pages
[
]
Language
[
]
Soy capaz de hablar español.
我能讲中文
Ich bin in der Lage sprechen Deutsch.
Je suis capable de parler français.
I am capable of speaking English.